Colin Hay Band, Lazlo Bane @ Carl Pfeifer Performing Arts Center - 7/14/07
Review by Lazlo
Photos by Naomi
Back in 1983, at the age of 10, I was a huge fan of Men At Work. I still have my original cassette of their "business as usual" album, although it's so warped from overplaying back then that it's simply kept for nostalgia value. During the summer of 1983 I tried, unsuccessfully, to get my parents to take me to see them at the Garden State Arts Center.
Fast forward 20 something years, and I saw Colin Hay, the former lead singer of Men At Work, on Scrubs singing an acoustic version of "overkill". Then he was on the soundtrack to the movie, "Garden State", with "I Just Don't Think I'll Ever Get Over You", a song John Mayer said was, "...without a doubt my favorite song of the year." Then earlier this year he released a new CD, "are you lookin' at me?", which contained some really amazing songs.
So with some fear that Colin Hay would not be as good as the 10 year old inside me still wanted him to be, I decided to go see him and his band play at the Carl Pfeifer Performing Arts Center in Wyckoff, NJ.
I had never heard of this venue, and as it turns out it's a half gymnasium inside a YMCA, with a large stage, and pretty comfortable padded folding chairs. The only negatives I have about the venue, was that their sign is mostly obstructed by a tree, so I drove right past it on the first try, and the room did not have proper air conditioning, so it was a bit hot in there.
At 8pm sharp, Colin Hay walked onto the stage to introduce, Lazlo Bane, a band he is very friendly with. According to lead singer Chad Fischer, he and Colin met when they found out they were both dating the same girl. Lazlo Bane is probably best known for doing the theme song to the TV series, "Scrubs", "superman". They played that (with Colin coming out to sing backing vocals), as well as a bunch of other roots-rock based pop.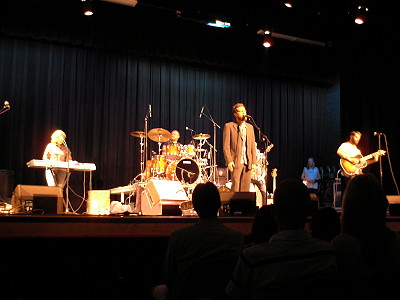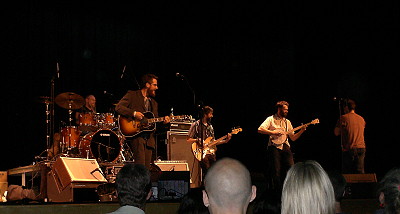 The band recently put out a CD of 70's covers entitled, "guilty pleasures", and while they only played one song from that album, a cover of "stuck in the middle with you", they mentioned that they all currently have beards for a video they are filming this week for "I'm not in love".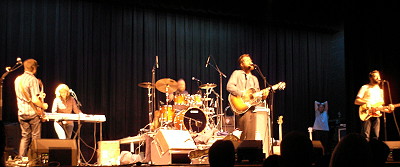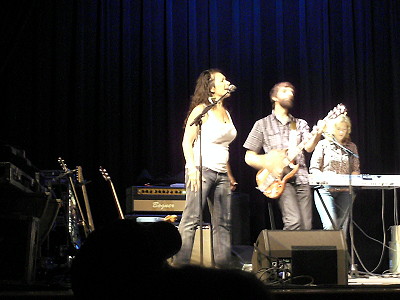 They closed out their set with two of their best songs, the witty, "MySpace song", and the rocking, "trampoline", the latter of which Cecilia NoŽl (Colin Hay's wife) sang backing vocals on.
9pm rolled around and Colin Hay took to the stage with just a 12-string guitar. Before playing a song he started in cracking jokes about being glad there was nothing on TV to keep the audience home tonight, and spoke of being born in Scotland, spending many years in Australia, but living in LA for the last 17 years, and how much he likes LA. As he put it, where else can you see Batman just walking down the street.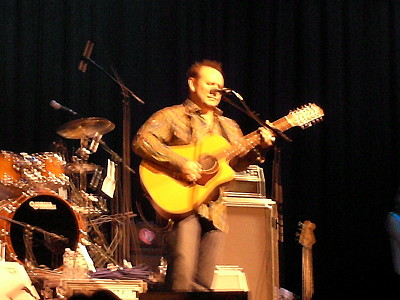 After warming of the crowd with his humor, he opened his set was an amazingly moving version of, "I Just Don't Think I'll Ever Get Over You", that literally gave me chills. That's when I realized, this wasn't going to be a nostalgia show for me, Colin Hay sounds incredible!
Before bringing out the rest of his band, he told some more funny stories about how the lord must be angry that the devil has all the good songs. Staying with that riff, he pointed out that the lord has caller ID, to avoid hanging out with people like Jerry Falwell, and finally he joked that what if the lord came back and the drummer in your band and not very good. How do you kick him out?
Let me tell you, if Colin Hay ever decided to just do a tour of telling stories and jokes, I'd definitely pay to see that. He is very warm and funny. But I'm just as happy to see him singing too.
Bringing out the rest of his band he told the audience not to worry that he'd be playing the Men At Work stuff. Honestly, I was enjoying his solo stuff so much, I didn't care that it was nearly an hour into the show before he played a Men At Work song.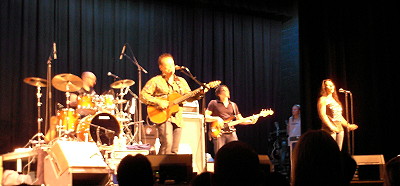 He played several songs from his new album, "are you lookin' at me?", including "no one knows" (which he said he had originally written for Ringo Starr to sing), "lonely without you" (which he had the entire crowd singing along to the chorus, of what I feel is the best song off the new CD), and "what would Bob do?" (which I think is the most fun song on the new CD). The Bob in, "what would Bob do?", is Bob Dylan, and Colin went into a hysterical impression of Bob Dylan, describing Bob's voice as being like that of an Afghani man praying.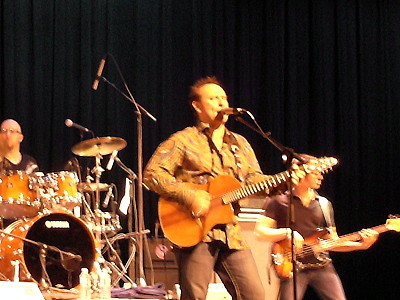 Colin also joked about his career, and going from playing to 150,000 people at a show, down to 4 people, and now back to 200 people, and how he's working his way back up to those huge crowds. He said a lot of people ask him if he's glad the 80's are making a comeback, and he commented that he sat around for 20 years waiting for it. I'm glad he can joke about it. And let me say again, if he ever did a tour of just telling stories and jokes, I'd be there.

But I'm sure you want to know what Men At Work songs he did. He did quite a few actually. "Who can it be now", "I can see it in your eyes" (which he commented was originally going to be the first single from "business as usual"), "overkill" (opting for the full on rock version, and not the acoustic version "Scrubs made famous), "it's a mistake", and of course, "down under", with his wife recreating the flute parts with her voice. All of these songs sounded even better than I remembered them from my youth.
His wife, I should point out, sang backing vocals the entire set, and was a ball of energy dancing and bouncing all over the stage in time with the music.
By the time the nearly 2 hour show ended with, "waiting for my real life to begin", I felt like I had not just seen another concert, I saw a full on show. The music was incredible. Colin's voice is as good, if not better, then he sounded back in the 80's. His songwriting is top notch, making one of the best singer/songwriters that is probably not thought of as a singer/songwriter. The band is spot on. And Colin's personality and storytelling really makes you feel like you're kind of just kicking back with Colin and the band , hanging out and having fun.
www.colinhay.com
www.lazlobane.com