what's in the CMJ Swag Bag?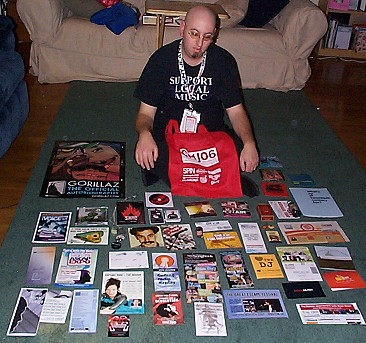 I'm a little overwhelmed looking at all the free CMJ stuff
At the CMJ Music Marathon , much like other events of this sort, you get a "gift bag", or what I like to call CMJ swag. Here's a listing (along with some comments from me) of what was in the bag:
CMJ On Air vol. 15 CD - haven't listened to it yet, but with songs from cool bands like the Majestic Twelve and Transfusion M, I know I'll like at least 2 songs on it :)
Box Of Poems sampler CD - Surprisingly, there's no poetry involved. Instead this CD contains 2 songs that reminded me of Rick Springfield. The disc says, "Box of Poems is currently unsigned!"
Filter presents Volume III Subway Series CD - This CD kicks ass! Songs from Tom Waits, The Black Keys, Sean Lennon, and Kevin Devine, among others.
Public Enemy's "new whirl odor" CD - Put out last year, this disc proves PE is still THE name in political rap.
MySpace Records Fall 2006 CD - 7 songs from 4 of the thousands of bands on MySpace...shame they weren't the best MySpace has to offer.
A CD with a silhouette that looks like a dreadlocked guy holding a hatchet - no description of who or what may be on this CD. It's not likely to get my attention that way. It's currently on the bottom of my listening pile...beneath Barry Manilow's greatest hits.
The Hero Factor "battling chimaera" DVD - featuring a band interview and 4 live performances.
Babes Blades Blood Beauty DVD - 4 complete episodes of anime, and best of all, they have subtitled versions on it! Yes! I am looking forward to watching this.
Set of 10 indie band trading cards - Pretty neat cards, depicting 10 bands from indie labels, including the Walkmen, and Robert Pollard. Each card contains bio, bands members, websites, and a fun fact (for instance did you know that the Small Sins is the only band who has a fulltime clapper with his own clapper website).
G.I. Joe doll head - Apparently, as the paper inside the head reads, Hot Topic will soon be carrying the original G.I. Joe with the kung-fu grip, which hopefully will finally answer my question of just what the fuck is a kung-fu grip? I have already made a makeshift spike for the head out of a pencil.
2.5 fl. oz. bottle of Upshot energy drink glued to a postcard for Four Fifty One Kickass Tour - I guess the real upshot is if I get tired running from club to club to hear bands, I can drink this and get some energy back.
Zig-Zag tin box - I don't smoke, but I'll find a good use for this...or it will be donated to Goodwill.
Bodog Music bottle opener keychain - because Bodog likes to par-tay.
DigitalFreedom.org felt coaster - Great, now I have a place to put the beer I just opened with my bodog bottle opener ;)
MySpace CD opener - This is probably the most useful thing in the bag. It helped open the shrink wrap on all the CDs LOL!
Dogtags that say WTD music survival guide, and whatsthedownload.com - Yeah...I have some initials too, WTF. like I want to wear dogtags...especially when they advertise something.
2 Zune buttons attached to a card listing their parties- And yet I still don't know what Zune is...
ReverbNation button - We are a part of a reverb nation (sorry, that song got stuck in my head after reading the button, hopefully now you can feel my pain)
Save America's Eagles (spinner.com) button - But didn't Stephen Colbert say that eagles are plentiful?
a Purevolume.com dropcard to download a free showcase sampler - Instead of giving me a CD, you want me to do extra work to hear bands you think are good. If your taste's are anything like MySpace's sampler, it's not worth my time.
New Music 101 Digital Music Sampler CD sleeve - That's right, just a sleeve with a tracklisting. I have to go download the actual sampler from their site...cheap bastards couldn't even put a CD in the sleeve. Not cool.
And postcards, postcards, postcards!
fuzz.com wants me to join their movement
bodog wants me to watch their pay-per-view fight
David vs. Goliath Foundation wants me to pay $30 to go to their seminar on how to build relationships & contacts in the entertainment industry - I'll tell you one thing, I'm unlikely to meet anyone there that would be able to help anyone in the entertainment industry.
the Great Escape Festival coming to Brighton, UK, May 17th-19th, 2007 - I can barely afford train fare into the city, I'm going to buy plane fare to go overseas?
Bodog Music invites me to their artist showcase on Nov. 1st
blastmymusic.com presents the music blaster
thedelimagazine.com is, according to this flyer, the website about the NYC indie music scene (as long as they don't muscle into the NJ indie music scene, that's BlowUpRadio.com's job)
The Oh My Rockness guide to select NYC venues - and unlike most guides, this one has useful tips like, "Sparks prices fluctuate (at Sin-e) depending on which bartender you ask. Shop around to get the best price."
Canadian Music Week March 7th - 10th, 2007 - sounds like Canada's answer to the CMJ Fest...may have to see about getting press passes for this.
KCRW CMJ Showcase listings
A mail-in coupon for a free issue of Alarm magazine - I wonder if they've ever done a story on The Alarm?
Grammy University Network info
am New York's guide to CMJ
The Law Offices of Alan D. Barson - does Doug Llewelyn do his advertising? If so, I'm interested in his services, because who better to trust to pick a lawyer for me than the guy who was the court reporter on the People's Court (for you youngsters, the People's Court was THE judge show years before Judge Judy).
Lincoln Center's American Songbook 2007 season - one of the many shows on here is Mos Def's Big Band...interesting.
Rachel Sage & The Sequins CMJ performance schedule - this is actually one of the artists I wanted to make sure to see as I am a big fan of her albums, so having the schedule for her was helpful.
Ad for The Village Voice - I used to read this paper, but it's kind of become the equivalent of the Aquarian for me, only good for the ads.
Music Pro insurance for music pros - but does it cover when some drunk asshole spills a beer on your new rickenbacker guitar?
Ad for the Borat movie - a very intense looking Borat is staring at me on the front of the postcard...it kinda creeps me out.
Another ad for Music Pro insurance for music pros
Disc Makers getting radio airplay tips from the experts - tip number one, make sure your flyers are printed right. The type on this was printed twice and misaligned, so it is largely unreadable without hurting your eyes (maybe it's a 3-D pamphlet and I need special glasses?).
ad for Denny Daniel, video & web design - says they'll work with any budget...how about no budget?
ASCAP Expo - happening April 19th-21st, 2007 in LA, they're motto is, "I create music", written in a crayon type font.
Brain Music Therapy - immediately A Clockwork Orange comes to mind...
The Center For Neurofeedback and Integrative Health, Inc. - they do brain music therapy too...creepy.
Ad for e&a Optical Disc
$1 coupon for Energizer batteries
Rockworks.us - apparently they are a charity that is helping to rebuild the damaged areas from Katrina.
What's up at Twentieth Century Fox? - Describing upcoming films both cool sounding (The Simpsons movie, and Reno 911!: Miami), and bad sounding (Live Free or Die Hard (really, wasn't Die Hard 3 bad enough?), and Fantastic 4: Rise of the Silver Surfer (Roger Corman's Fantastic Four was better than the first one 20th Century Fox put out)).
and a Poster for the new Gorillaz autobiography