DVD Review: "New Order: Live In Glasgow"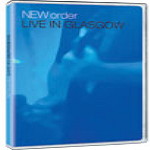 I have been a casual fan of New Order ever since I first heard them sometime in the early 80's, but I have never seen them live. With the future of New Order in question with bassist Peter Hook insisting the band is over, I am sure glad that New Order have put out the DVD concert Live In Glasgow.
Culled from a 2 night stand at Carling Academy in October of 2006, Live From Glasgow shows the band in dazzling HD picture and 5.1 surround sound. That means the band and the director weren't fucking around about wanting to give the viewer the best view of a New Order concert possible.
But the HD and surround sound is nothing if the band doesn't deliver the goods with a specatcular live show. Thankfully, New Order does just that. For a band that has been around over 25 years, they didn't look tired or bored, they looked like they were having fun (there are some great shots of Bernard Sumner shuffling his feet in a dancing motion while strumming along on his guitar), and they sounded at the top of their game, even when singing hits that they've probably played more times then they can count.
In addition to playing their hits there is a nice selection of deeper album cuts, and a 3 song encore of Joy Divison classics. This means there is something for everyone in this concert, whether you only are familiar with hits like "blue Monday", and "bizarre love triangle", or a die-hard fan that could probably count the number of times New Order has played "shadow play" live.
Interspersed during the concert are some short interviews with the 3 principal members of New Order. Sometimes on concert films these interviews can be a real distraction from the concert, but in this case I felt it added to the experience and gave some real insight into the band.
Disc 2 of Live In Glasgow is what they refer to as, "rare and unseen footage", and includes live performances from New Order from 1981 to 2006. This disc I would say is more for the die-hard New Order fan than the casual fan. The song choices are largely deeper cuts, and very few songs are repeats from disc 1.
My problem with disc 2 is beyond the band's control. Because these were old tapings (except for the 2006 footage), the picture is not HD, and often shaded in blue (due to the bands heavy use of blue lighting), and the sound is not as crisp and clear as the 5.1 surround sound on disc 1.
Overall, Live In Glasgow is a fine example of a concert film done right, and a worthy addition for even the most casual of New Order fans. The bonus live footage on disc 2 just proves that this DVD set was made with plenty of care and attention to what the die-hard New Order fans would want to see.
www.neworderonline.com