School Of Rock Fest - 6/24/07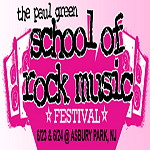 The School Of Rock Festival is an interesting idea. Step one: block of the one block in Asbury Park that Asbury Lanes, The Fastlane, and the Baronet are on, and in addition to utilizing all three of those venues for music, put up two outdoor stages. Step two: invite some cool bands to play, and also give the different School Of Rock band's from different parts of the country a bigger venue to showcase their burgeoning skills.
Since I made the mistake of not trying to get my own press pass for this event, I relied on Jersey Beat's Jim Testa, who had the foresight to ask for 2 press passes. Unfortunately, he was unable to get down to Asbury Park until late Sunday afternoon, so we both missed all of Saturday's events and a large chunk of Sunday's also.
We did however get there just in time to catch most of the Bouncing Souls set. Back when I was in college, I got to see and hear the Bouncing Souls when they were still more fast punk and less pop-punk (i.e. commercial radio sounding). I wouldn't say I dislike the direction that Bouncing Souls have gone in, as they are still a good band, but I find their stuff from the 2000's to be less interesting to me then their earlier stuff. So their set was ok, but kind of left me missing their old stuff.
After the Bouncing Souls I spent $7 on a horrible tasting vegetarian burrito. One thing this fest needs is better vegetarian food. Even Asbury Lanes, which usually carries several vegetarian foods, had a special menu out that only had a grilled cheese on it for vegetarians (which in hindsight would have been better than the burrito).
While eating the burrito I got to see the School Of Rock band from New York doing David Bowie covers.
A little side note here, all the School Of Rock Bands were doing covers of various artists throughout the weekend. I generally hate cover bands, but in this case I am willing to give a little more leeway because these are kids, some of them very young, and they are learning. Sure, I'd have loved if they were trying to write their own songs and showcase them at this event, but that may be asking too much.
And since these are all kids who are still learning, I just don't feel it's fair to critique them. I think it's important to be supportive and hope that these kids grow up to form some of the best bands of tomorrow.
Heading back to the main stage I was looking forward to seeing the School Of Rock All-Stars who would be doing some songs with Jello Biafra, and Vernon Reid. I sure hope these kids realize how lucky they are to get that type of opportunity. The kids did a lot of songs on their own that varied from songs by Patti LaBelle, Devo, Nena, Michael Jackson, and Slayer...yes, you read right, Slayer!
When Jello Biafra came out to sing a couple of his songs with the kids, he was true to form, giving all his energy and railing about his political views. This was the absolute highlight of the entire fest to me. Jello was having fun, a rambunctious mosh pit formed, and the place just went nuts for the 2 songs that he was up there for. Vernon Reid later came up to play guitar along with some kids who were amazing guitarists. The 3 guitarists burned through versions of "red house" and "cult of personaility", with some wonderful young female vocalists. After seeing the School Of Rock All-Stars I had some real hope that not all the musicians of tomorrow will learn from the corporate pop of today.
Closing out the night was Bad Brains. I was really looking forward to seeing the reunited Bad Brains because I had heard and seen videos of the band back in their heyday. Sadly what I got to see was not that band. They still played well, but HR, the once crazy frontman, now seems like he is heavily medicated and would be a good host for a kids program. He was standing perfectly still when he wasn't singing, with a big grin on his face, and his between song banter was said in a mellow Mr. Rogers like tone. At first I found it kind of funny, but as it went on and on it got kind of sad like when I saw a very old pathetic looking Ozzy playing with Black Sabbath back in 2000. 40 minutes into Bad Brains set Jim and I decided to leave.
Overall, I didn't get to see enough of the fest to give an informed review, but from what I did see, I really hope this is the start of an annual event. I may not have enjoyed band I saw, but I enjoyed the experience.
Jim Testa has his review of the festival, including pictures
here
.