Cory Baker (1973-2008)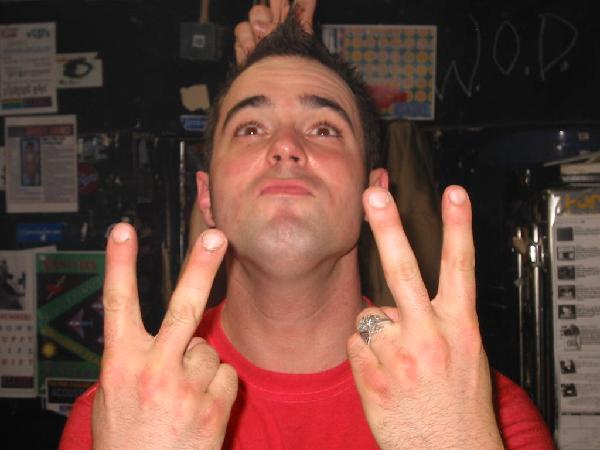 Hello Dear Friends --
It's been a while since I've touched base with you all. I know I should've been better about that. But ever since HIGH SPEED CHASE took a break and began a new CD back in the fall, there have been many other things that have filled a lot of time I used to put into the band. The work I've been doing with Jason Della Valle has been the main occupier of my musician time as of late. So it is with a very heavy heart that I come up from underground to let you all know of a tragic event –
Our very dear friend Cory Baker is no longer with us. He died this past Sunday. I prefer not to delve into the circumstances of his passing but only to say I thought it was utmost that all of you know -- bearing in mind the support that you have given us as friends and fans over the years.
When I first saw Cory play bass in Slushpuppy close to 8 years ago, I knew that he had a fire in him. What looked like a performance bordering on chaos was very cleverly disguised as an exercise in pure brinkmanship. This fire looked like it could rage out of control at any moment but there was always this duality in Cory – The Fireman seemed to be very much at ease living with The Arsonist. Hence the appeal of not only working with him in a professional sense, but the desire to know more about him as a friend, compelled us – the musicians and brethren in his world -- to make those Snake River jumps with him.
Cory made it clear to all of us that the world was a place that he wanted to bend to his vision. There were times, of course, that the reality set in and he managed to settle just long enough to build up steam and again come back with an appetite to dive into another round. He may not have always been cooperative in the sense of keeping things neat and clean when it came to sharing the world stage with him, but in a way, Cory's sense of right and wrong were usually what we were thinking but afraid to say.
Working with Cory could be maddening and a revelation all within a five minute period. But at the end of the day, he still managed to make it happen when it was show time and when the tracks needed to be played right in the studio. The Slushpuppy records more than proved what a force Cory could be as studio musician. What may have been reckless but brilliant live performances always became rock solid and top-notch once captured on record – Cory knew when it was time to let just enough go to keep the audience watching and when it was time to be the studio cat he really was.
I was lucky enough to have Cory play bass with me in HIGH SPEED CHASE for almost two years -- long enough for me to realize that when he put his mind to it, his potential for greatness stretched the skies.
When we decided to take a break with the band and concentrate on making a new record, in spite of being despondent about what was looking like a long hiatus, Cory still made sure to lay down sick performances in the studio with the same fire in his heart that he always had, in hopes that someday, the record will eventually be heard by the world. It's almost as if he knew that these tracks were going to be his legacy.
Thinking back on the trip that HIGH SPEED CHASE took down to North Carolina for last year's WE Fest, I really believe that I got to see a side of Cory that I only wish more people got to see. During that entire adventure over Memorial Day Weekend of last year, Cory was the fun loving party animal that insisted on showing the rest of us how to still live the rock and roll lifestyle without being consumed by it. He was in a very good place then. I only wish this place could've stood the test of time. Unfortunately, for Cory, life began to take a very rough turn over the past year. Again, I refuse to discuss details. All I can say is, those of us who knew him and loved him were worried and no matter how hard we tried, it seems the world finally won the war that Cory was not afraid to fight.
In retrospective, I will always wonder if there was more that could've been done – we all do. At this point, there will be no sure answers but I will always know this -- Cory Baker was a good soul who cared about his friends and loved ones in his own unique way. What he gave us in his very short life can't be taken away – his amazing sense of humor, his raw and unbridled talent to play the shit out of a song and make it his own, his loyalty and compassion, the way he could argue with you and make you so mad, but at the same time make you laugh with his smile and big guffaw. These were just some of the things that we will always be glad to have shared with our big buddy with the big heart.
I can only wish that you're in a better place sharing the big stage in the sky with your rock and roll heroes. It would be only fitting. See you someday my brutha, for the band reunion in the heavens.
God will be holding his ears and we'll be laughing. Farewell my good friend.
--Chris "Gibby" Gibson
Dawn Botti (Slushpuppy) rememberes Cory Baker
Stephen Bailey rememberes Cory Baker