Jersey Based Singer/Songwriter Bob Burger Leads House Band at Jon Bon Jovi's Star Studded Hamptons Party Turned All-Star Ensemble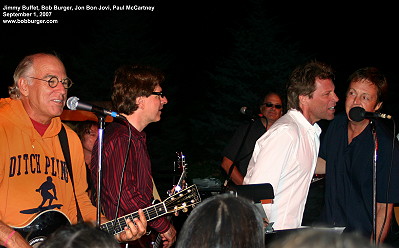 East Hampton, New York (PHANTOM POWER PRODUCTIONS) September 5, 2007 -- New Jersey based Singer/Songwriter Bob Burger led his self-titled band and all-star guest list at a private party hosted by Jon Bon Jovi and wife, Dorothea at their East Hampton estate on Saturday, September 1st. The surf-and-turf dinner would have been enough for a crowd that, according to the New York Post, included Renee Zellwegger, Naomi Watts, Howard Stern, "Today" anchor Matt Lauer, designer Donna Karan, New Jersey Governor Jon Corzine, Rolling Stone publisher Jann Wenner, "Saturday Night Live" producer Lorne Michaels and Bruce Springsteen. The Bob Burger ba nd consisted of Jimmy Leahey, guitar; Jerry Gaskill, drums; Jon Rogers, bass; Mike Mancini, keyboards; and Tommy Labella, sax.
Around 11 PM, led by party host Jon Bon Jovi, the rock-n-roll superstars included among the guests began to join the band. Paul McCartney, Billy Joel, Roger Waters and Jimmy Buffet joined their host and Bob Burger on stage to entertain the dancing party-goers.
"A totally unexpected and surreal experience! I don't think anyone had an inkling of how special the night was to become. We all kept pinching ourselves. Jimmy Leahey said it best: 'Here's a vision....I will never in my life forget, looking over at Bob (actually looking over Paul McCartney's head at Bob) and seeing him share a mic with the man… Bob's face was priceless,'" says Burger. "It was of the highest honor to be able to perform with the likes of Jon Bon Jovi, Paul McCartney, Billy Joel, Roger Waters and Jimmy Buffett."
"Billy was wailing on the keyboards. They performed for a good hour of rock classics. Nobody could believe it. Howard Stern was really rocking out," the New York Daily News quoted a guest as saying.
The rock legends played Bon Jovi and Beatle tunes, along with many Billy Joel songs. Among the evening's high points included Paul McCartney's "Long Tall Sally," Roger Waters on "Wish You Were Here" and Jon Bon Jovi's Grammy Winning "Who Says You Can't Go Home," the New Jersey tourism board's signature song which rocked a dance floor led by Governor Corzine.
"The governor led people on to the dance floor. The whole thing was spontaneous. It was the first Hamptons party in years that was actually fun," the guest said.
The party turned rock concert featuring perhaps the most prominent line-up of musicians in history prompted much buzz after the long weekend. Besides being featured in multiple print publications and earning prime real estate on various online gossip blogs, Howard Stern was heard recounting his experience on Tuesday morning's broadcast. In addition, Q104.3's Jim Kerr and the Morning Show, eager for that "fly on the wall" perspective, interviewed Bob Burger on Wednesday morning's broadcast. Footage of this interview can be heard courtesy of Q104.3 at http://tinyurl.com/38sbaz.
Bob Burger was originally brokered to play the party by friend Bobby Bandiera who recommended him to Bon Jovi, both whom he holds in very high esteem:
"I can't say enough about Jon Bon Jovi's grace in handling and creating such a special moment in time. He threw the party, led the parade and made it happen! Also have to give a special nod to Bobby Bandiera for setting me up to play the party to begin with, for having the faith to recommend me to Jon, and just for being a great friend!"
After seven years without breaking, Burger plans to be on hiatus for the next three months. A well-deserved break after a summer which consisted of performances at B.B. King's opening for Southside Johnny and the Asbury Jukes and performances at Count Basie Theatre as part of Bobby Bandiera's Rock-N-Soul Revue. Burger will be using the time to finish his upcoming Holiday CD due out in a couple of months.