The legendary Meat Puppets return with new album "Lollipop" for release April 12 on Megaforce Records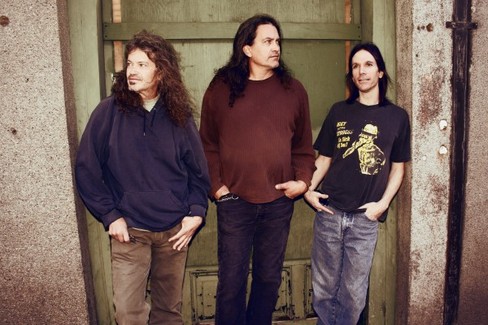 Photo by Jamie Butler
The legendary rock trio Meat Puppets announce their powerful return with the release of their new album Lollipop out April 12, 2011 on Megaforce Records.
Following up on their critically lauded 09 release, Sewn Together, Lollipop was recorded at Spoon's HiFi Studio's in Austin.
Produced by band leader Curt Kirwood, the album features the indelible Kirkwood brothers back at work and back at play on 12 new original cuts, reinforcing the band's hypnotic power recognized by SPIN for "the interplay of Curt's drowsy vocals and freaky guitar can still induce vertiginous spells."
History of the Meat Puppets, the recording and release of Lollipop
Accurately known as a premier indie band favored by the likes of Sonic Youth, Ween, Pavement, Widespread Panic, Stone Temple Pilots, and ZZ Top, the Meat Puppets remain one of the most significant and vibrant American original acts. The band's reputation is linch pinned because of their incomparable abilities in blending punk/d.i.y. attitude with country and psychedelic rock feel. The esteemed Kirkwood brothers were widely exposed to the MTV generation when Nirvana's Cobain pursued them to join as guest musicians on Nirvana's MTV Unplugged performance in 1993. The band's subsequent album Too High to Die went gold, selling over 500,000 albums, and became their most successful commercial release. After various trials and tribulations that have been well documented, the band reunited in 2006. With the new Lollipop, the band has now delivered three consecutive bat-right-on-the-ball studio efforts.
New to this album and now a permanent member of the band, is drummer Shandon Sahm, whose dad was noted avant-garde Texan traditionalist Doug Sahm (Sir Douglas Quintet; Texas Tornados)
Lollipop Track Listing
1. Incomplete
2. Orange
3. Shave It
4. Baby Don't
5. Hour Of The Idiot
6. Lantern
7. Town
8. Damn thing
9. Amazing
10. Way That It Are
11. Vile
12. The Spider And The Spaceship