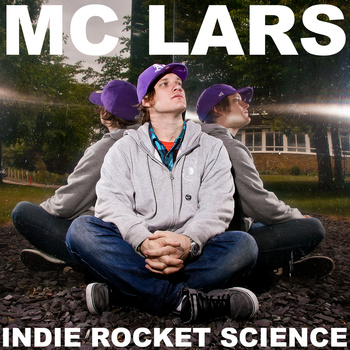 MC Lars
"indie rocket science" (zip)
Post-punk laptop rapper MC LARS unleashed his first mixtape INDIE ROCK SCIENCE on his own record label Horris Records at midnight this morning, June 17, 2011. This will be the inaugural installment of a series of FREE mixtapes, which can be downloaded from his bandcamp page here: http://mclars.bandcamp.com/. "All of the featured rappers are people I reached out to directly and they all bring a different take to my 'post-punk laptop rap' style," Lars explains. The project features a bunch of collabs, including one with my dad, a California poet and spoken word artist known as MC Bob Nielsen." Some of the collaborators include KRS-One, Sage Francis, Weerd Science, and MC Chris among others and Indie Rocket Science serves as a prelude to his upcoming album Lars Attacks! which will be released later this Summer.
While many of his peers fear piracy as a virus infecting the music industry, MC Lars takes a bold approach and embraces it, which he described quite thoroughly on a feature on his DIY indie rap ideology on CNN Money (which can be seen here: http://goo.gl/JDwaW). "We're pro-piracy because if a kid has my entire catalog and comes to a show, he'll bring his friends," he tells CNN. Instead of losing sleep over dwindling record sales, Lars will be giving away these 18 new tracks so his fans can sing along with him and his partner in crime and first signing to his Horris Records label, Weerd Science on 2011 Vans Warped Tour. For full dates, go to http://www.warpedtour.com.
With a major in English Studies at Stanford University and further studies at England's Oxford University, MC Lars opted to steer his prestigious education towards music and began to create and innovate. As an emerging artist, he was one of the first rappers to sample post-punk and emo bands, such as the track "Annabel Lee R.I.P." which features a sample of Tegan & Sara's "Walking with the Ghost." Lars has toured all over the globe with bands and rappers such as Nas, Snoop Dogg, T-Pain, Ludacris, Lupe Fiasco, Gym Class Heroes, Say Anything, Bowling For Soup, Bayside, and many others.
MC Lars and Weerd Science will be performing together on the 2011 Vans Warped Tour all Summer long. Information on LARS ATTACKS! and future releases to come shortly!
Check out MC Lars' Website
www.mclars.com
All downloads are for personal, non-commercial use.
All rights are retained by the artists