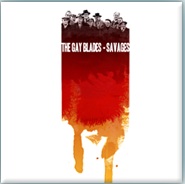 The Gay Blades
"try to understand" (MP3)
from "savages"
Over the past three years, The Gay Blades have built an international following on their side-stepping demeanor, their unpredictable live shows and, of course, their unhinged manic sound. But while their fan base is still marveling at how the larger-than-life duo can fill aural spaces so completely as a two-piece, the band is ready to unveil their sophomore album, Savages, which promises to astonish both their current devotees and future fans alike. Savages is out October 5th via Triple Crown Records/ILG.
Since the release of their debut album, Ghosts, lead singer/guitarist James DeanWells AKA Clark Westfield and drummer Quinn English AKA Puppy Mills have experienced extraordinary life changes, which have consciously and unconsciously shaped the songs on their impressive new album. Specifically, Savages is the amalgamation of the emotions behind relentless touring, the band's hometown of NYC and the passing of Wells' brother Ian Savage Wells.
"This record was the next step for our band," Wells says. "On Ghosts, we were creating with this almost adolescent air of irreverence, but with Savages we are just trying to be unfettered. We can't worry about what this record is supposed to be, only what we want it to be – a collection of trashy rock songs that speak as much to the music we love as it does our own personal chemistry as a band."
The Gay Blades holed up with producer Dean Baltulonis (The Hold Steady, Lissy Trullie, Goes Cube) in his Queens, NY studio, where they experimented with fuller instrumentation and live recordings. The result is an unapologetic pop record adorned with a mosaic of luscious string arrangements, boisterous horns, gorgeous harmonies and surprising synths and programming. While Savages is clearly more evolved than Ghosts, Wells has faith that it will appease his fans.
"Luckily, we don't fit into any one scene or genre, so our fans aren't small-minded about our sound," he says. "One of my idols, Beck, puts out records that couldn't be more disparate from one another, but because he consistently puts out good-sounding records, people love them all. Truthfully, though, the only thing he and I have in common is that we both look really good in a suit and can dance like a white James Brown."
Savages is an eclectic mix of songs, which cannot be defined by any one genre, but does pay homage to artists such as the Rolling Stones, David Bowie, Bruce Springsteen, Adam Ant, Spoon, Wilco and Weezer. "Rock N' Roll (Part I)," the album's emblematic opener, kicks off with scathing guitars and commanding drums, writhing in true Gay Blades fashion. The horn arrangements make their most prominent appearance on "Try To Understand," a song about "the patience we need to love those who test our love the most," Wells explains, adding, "it's a monster of a song, and it might be my favorite on the record."
The Gay Blades have toured throughout the US and Europe sharing stages with the likes of Cursive, MGMT, The Black Lips, Matt and Kim, Ra Ra Riot, Jack's Mannequin, Juliette Lewis and Electric Six, but with all that they've accomplished, the band simply wants to continue creating music that will make a mark. Armed with their compelling new album, it won't be difficult. "When we can't identify with someone else's lifestyle, we assume that they're missing something intellectually and emotionally," he reflects. "But when you assume you're the missionary, I can guarantee someone else considers you the savage."
Check out the Gay Blades' Website
www.thegayblades.com
All downloads are for personal, non-commercial use.
All rights are retained by the artists