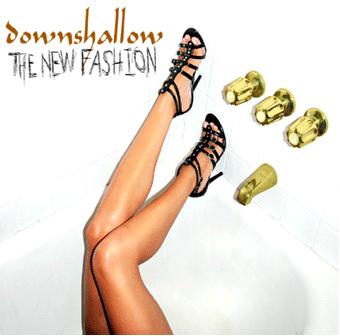 Downshallow
"glass house" (MP3)
(right click on link and "save as")
from the album "the new fashion"
THE NEW FASHION
"The New Fashion" marks Downshallow's return to the full length album format since their debut album, 2005's "So Many Wants, So Little Compromise". After experimenting with acoustic goodness on their "Good Friend Electric" (EP), the band returns to their brand of loud rock n roll that began in late 2000.
The lyrical sub-context of the record chronicles the rise and fall of celebrity stardom and their dealings with the harsh pressures of media scrutiny and paparazzi-infested reality. Musically, the band has carefully crafted a fine mix of punchy rock and dynamic vastness that has never been present in any of Downshallow's previous works.
Produced by guitarist Rob Ferreira and longtime studio accomplice, Charlie Park, The New Fashion displays the work of a band that has come into their own, creating a fresh sound for themselves, but all the while still sounding very much like Downshallow...a perfect bookend to cap off a 10 year musical career.
Downshallow would like to thank everyone who has supported us over the years!
Check out Downshallow's Website
www.downshallow.com
All downloads are for personal, non-commercial use.
All rights are retained by the artists