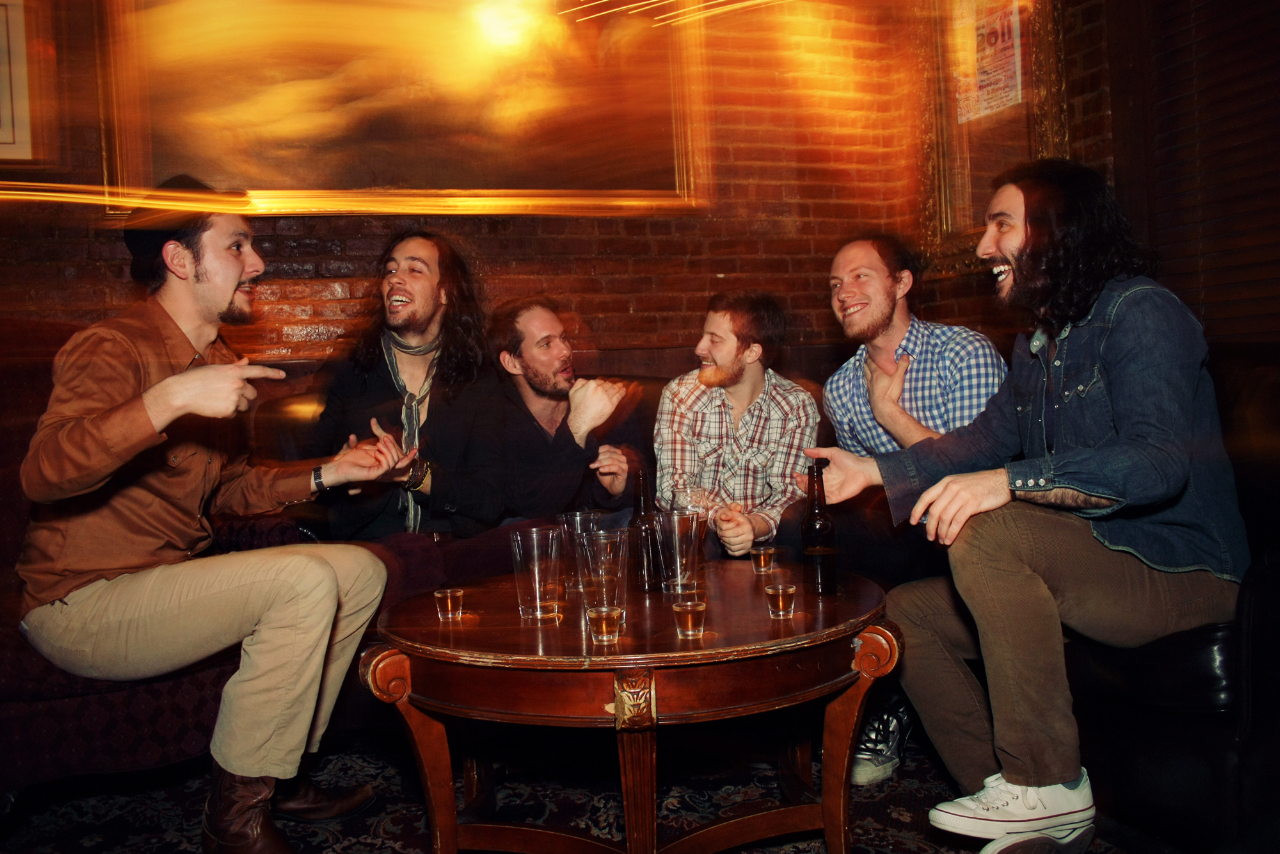 The District
"open arms and broken hearts" (MP3)
from "wellfleet"
Once upon a time in the not so distant past, six friends escaped New York City and descended upon Wellfleet, Massachusetts in the dead of a sleepy New England winter to chase ghosts and make a record. Ron Pope, Zach Berkman, Paul Hammer, Will Frish, Chris Kienel, and Mike Clifford wrote songs, drank whiskey, played blues in the middle of the night, and came away with a collection of songs that they decided to christen Wellfleet. The record is bold and evocative of varied moments from American musical history while finding a way to rest squarely in the here and now.
Wellfleet is built on the shoulders of stories about confusion, faith, love, grief, trust, and above all else, hope. It's a record that was brought about by a sense of brotherhood and togetherness. Accomplished on their own - the record marks the reunion of these 6 musicians and close friends. Band member Ron Pope has sold over 500,000 singles on iTunes in the past two years and performed on MTVs TRL. Paul Hammer is one half of the Brooklyn indie group, Savoir Adore, which has developed a strong cult following in both the US and Europe after releasing their debut album on Cantora Records. Zach Berkman was a castmember on MTVs Starmaker and his music has been featured on various prime time TV shows. Furthermore, the band includes the former guitarist of V2's The Rosewood Thieves, Will Frish and solo artists Mike Clifford and Chris Kienel.
Sometimes Mike couldn't sleep. Ron made up a new tuning for Will's guitar. Zach and Paul watched 'Titanic' on VHS in the middle of the night. Chris decided to write songs for the first time and discovered that, despite what he'd always thought, he knew how. Everyone took turns washing dishes and singing lead. Fiddle, pedal steel, filthy blues harp, mandolin, King Biscuit flour, sweat, a tombstone from the 1800's...twenty hour marathon recording sessions blended days into nights and Mondays into Fridays. Will's ferocious slide playing exploded and threatened to hammer you into the ground one second, and the next, a lush bed of ethereal harmonies whitewashed the room clean again, leaving something that felt like the Church of True Believers, Cape Cod Chapter.
It's colder in Massachusetts in the winter than the band expected. They walked into a quiet bar near the ocean and commandeered the jukebox for two straight hours of nothing but shit kicking country music and cheap beer. Some days they yelled at each other in the morning, unsteady on their feet and wrestling to guide the record in six different directions, and on others, they asked who wanted their eggs sunny side up. There are songs that bring to mind biblical parables and others that focus on the darker inclinations of lost men.
The District is a band without a lead singer, but somehow Wellfleet is an album that feels remarkably cohesive because, at it's core, whether the band is building a song around one voice or all six, there's a commonality of spirit and purpose that shines through.
Check out the The District's Website
www.thedistrictmusic.net
All downloads are for personal, non-commercial use.
All rights are retained by the artists