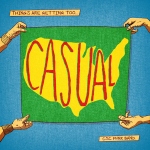 CSC Funk Band
"caneca" (zip file)
(right click & "Save as")
With the Summer release of their debut album Things Are Getting Too Casual, CSC Funk Band charges 11-deep from the formidable Brooklyn underground to forge an unforgettable path that leaves no ass unshaken. This is funk in the sense of both sound and scent, funk in the sense of blistering backbeats and sweaty, selfless abandon, funk in the sense of all senses colliding and all minds melding to form one holy motion. This is instrumental get-up-and-dance music from planet nowhere. CSC Funk Band first collided in atomic style at a Brooklyn loft party where the event organizer's only instruction was "make it fun and make it funky!" Thus, what began as a just-for-kicks improvisation amongst friends quickly became a "what'd I miss?" sensation at Brooklyn's sweatiest stages.
CSC Funk Band will release their debut album, Things Are Getting Too Casual on August 23, 2011 on Fat Beats Records. Recognized by the Village Voice as "Brooklyn noise-punk scene's very first funk band," CSC Funk Band is a random, diverse, and eclectic 11-member band hell bent on fully exhibiting the energy they exude in their live shows. Their debut album Things Are Getting Too Casual marks Fat Beats' Records inaugural funk band release. Although Fat Beats is known for releasing hip-hop albums, CSC is a welcome addition to the family. President Joseph Abajian enthusiastically states, "Growing up in the 80′s hip-hop music was funk breaks, electro-funk, freestyle, and eventually rap. CSC's music helps us reflect on our foundation with a fresh perspective and shows the variety of music that both hip-hop culture and Fat Beats embrace."
Spearheaded by Colin Langenus, the lead guitarist for prog-punk pioneers USA Is A Monster, CSC Funk Band celebrated its initial success by expanding the lineup to include players plucked from each point of the stylistic spectrum. Although initially concentrating on dancefloor-friendly funk jams, the embryonic group quickly grew out of its party-band britches by absorbing the diverse influence of its new members, including a former GWAR drummer, a keyboardist who plays with the Akron Family, an Anthony Braxton collaborator, and a trombonist for ska legends Bad Manners.
Rocking saxes, moog, guitars, trombones, drums, trumpets, a bass, and an oboe, the band is a random, diverse, and eclectic collective whose members draw from their rich histories to effortlessly entertain every flight of fancy while never once stepping out of sync or into categories. The psychedelic avalanche that the band effortlessly induces can be traced up the musical mountain to firm roots in technical mastery, avant-experimentation, and noise-punk ethos.
In 2010 the group released two 7"s on drummer Jim Thomson's Electric Cowbell Records: "Bad Banana Bread/Caneca" and a split with Stuart Bogie (Antibalas, Iron and Wine). Once the band's Electric Cowbell 45's caught the attention of Brooklyn's legendary Fat Beats Records, the idea of a proper full-length release for 2011 began to take shape. The album balances slightly urgent and mildly aggressive tracks such as "Canaca" and "Fiesta" with more chill and casual tracks such as "Bad Banana Bread" and "Funk Shoppe." Explains Jim, "The latter could be the soundtrack for when you're searching for that spot in the grass to put your picnic blanket while the former tracks mentioned have that car chase under the Brooklyn-Queens Expressway at the end-of-the-world-Mayan-calendar vibe."
The band is hot on the heels of two sought after 45′s, an Official Record Store Day 2011 limited edition 7" featuring an exclusive remix of "A Troll's Soiree" and a 7" single featuring a track from critically acclaimed Light in the Attic DVD "Wheedle's Groove." Two great collector tracks to keep you satisfied until the band's debut drops. Things Are Getting Too Casual will be released via full-length vinyl, CD, and digitally.
Check out CSC Funk Band's Website
www.myspace.com/cscfunkband
All downloads are for personal, non-commercial use.
All rights are retained by the artists