Simple, haunting, and beautiful. I love this song!
(1/22/09)
Sometimes you hear a song so beautiful you want the whole world to hear it.
Such is the case with Via Tania's new song, "wonder stranger", from her forthcoming album, "moon sweet moon".
You can hear it for yourself by going to her MySpace Page:
http://www.myspace.com/VIATANIA
Simple, haunting, and beautiful. I love this song!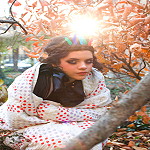 A little about Via Tania:
Born in Australia to South African parents, Tania Bowers childhood was full with diversity and dreams, often craving the unknown and inspired to pursue a musical gypsy lifestyle. As soon as she was able, Tania set on a path full of happenstance and wonder, which up until now has led this uniquely talented and equally endearing young singer songwriter to Chicago and ready to release the enchanting and haunting Moon Sweet Moon.
Her musical adventures began in Sydney during the mid Nineties when Tania first began playing with her sister Kim in the vowel-free noise-pop outfit SPDFGH, before she was old enough to be drinking in bars Tania was already opening for the likes of the Breeders and Bikini Kill whilst simultaneously gaining critical acclaim in her own right. It wasnt long before Aussie Tania set her sights on the United States to pursue her solo career.
Having relocated to Chicago she immediately set about piecing together an album under the guise of Via Tania, with producer Casey Rice and various other Chicago musical luminaries, she shifted her focus to production, electronics and sound, offering her songs to act as powerful vessels for such experiments.
A little over four years since the release of her debut album Under A Different Sky, Tania is about to release a powerful and haunting sophomore titled "Moon Sweet Moon", signifying a change in direction, dictated from the very seeds of songs and signifying a maturity and equal endless need to explore the unknown.