ALBUM PROFILES BY JAY MAZEFFECT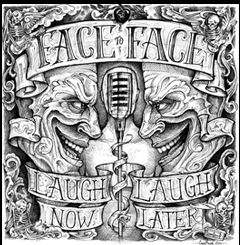 Face To Face - "laugh now, laugh later"
Some bands don't age well. Most specifically in punk. When Blink 182 hits the road again and plays it's juvenilia at age 40+, it's just gonna be sort of sad. Face To Face is not that sort of band. "Laugh Now, Laugh Later" shows that a punk band, quite some years after it's formation, can put out a record that has high energy, great big fat choruses, and that punk rock spirit in spades, that doesn't feel like an immature ride through an adolescent playground, but more or less offers up a release that feels timeless, in the sense that I can hear myself listening to this platter 5 years from now, and still get a charge out of it, instead of a nostalgic chuckle at dick and fart jokes. Sure I love dick and fart jokes, but we're not still listening to Buddy Holly because of his hit song "Guy From Nantucket"*. No, we're listening to him because he wrote songs that are every bit as good today as they were yesterday. Face To Face's new record isn't at the level of Buddy Holly (and that's not meant as a slight to them) but this album feels like something that will have legs. Strong ones, at that.

* Buddy Holly never wrote a song called "Guy From Nantucket". If he did, though, it would've been the friggin' Cadillac of dick and fart jokes.

Rating: 8/10 Worthy of your hard earned money.
- Jay Mazeffect


Face to Face formed in Southern CA in 1991 and went on to become one of the most influential punk rock bands of the 90ís, along with their contemporaries Blink 182, Green Day, The Offspring and Rancid. The group disbanded in 2004 and since reuniting in 2008, has toured the globe making appearances in South America , Australia , Japan , Europe, and both coasts of the US. Face to Face most recently returned to the main stage for the entire 2010 Vans Warped Tour.